Slack: tips and tricks
Did you forget to add @askSpoke to your Slack message? With Slack App Actions, you can turn any message into an askSpoke request. askSpoke will first search the Knowledge base for any resources that may help. If none are found, or if the proposed resource doesn't help, a request will be filed on behalf of the message author.
How do I get started?
Begin by connecting askSpoke to your Slack instance. If you're not yet connected to Slack, simply follow our Slack integration guide.

@askSpoke Help!
When users join a new company, getting up to speed can be difficult. With all the new names to learn, processes to follow, and products to use, there can be a LOT to remember.
To help with this, Users can now say "Help" When @mentioning or Dming askSpoke to receive a quick tutorial!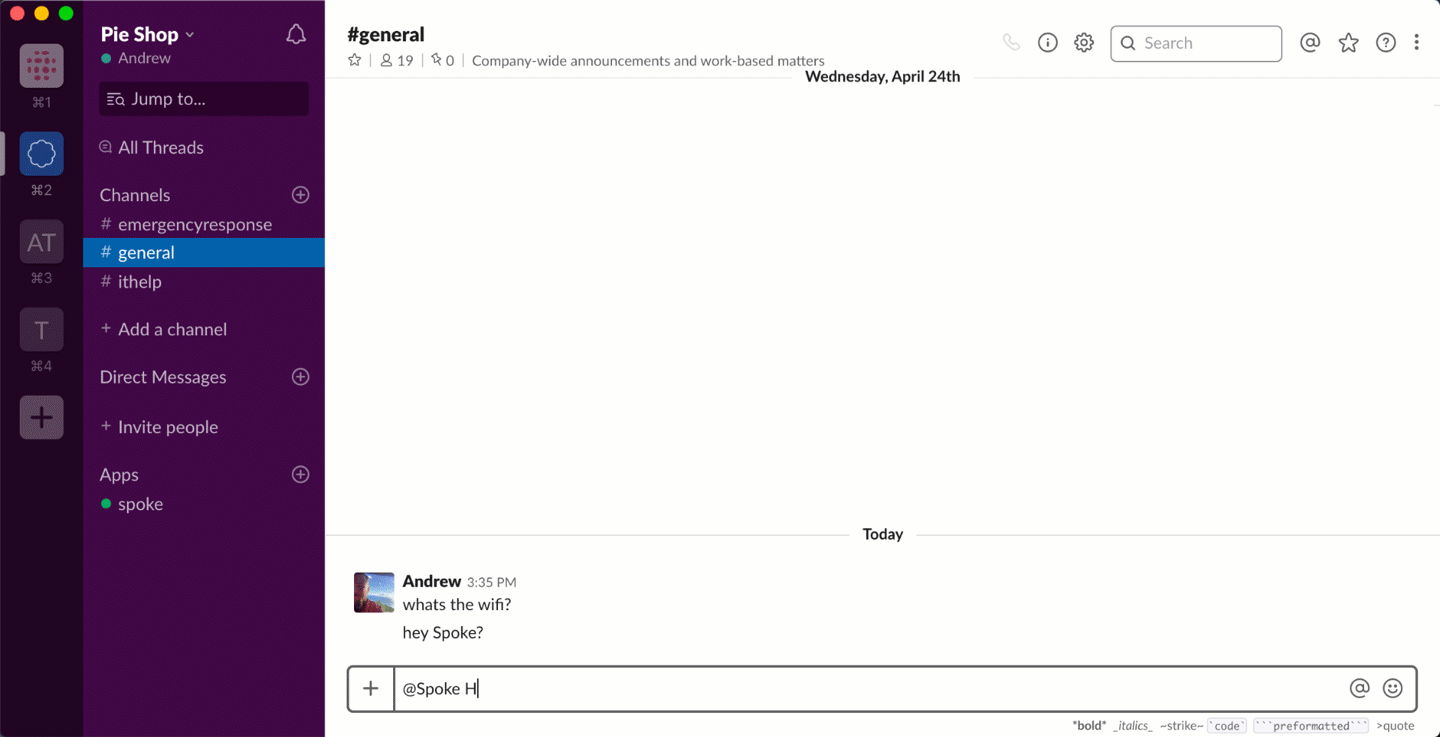 To trigger this message, use:
/askSpoke Help
@askSpoke Help!
DM @askSpoke Help

Slack App actions
File a request
Simply click on the "..." menu on hover for any Slack message. Click on "More message actions," from there, search for "Ask askSpoke" and that's it! Slack will surface this app action for you in this menu going forward.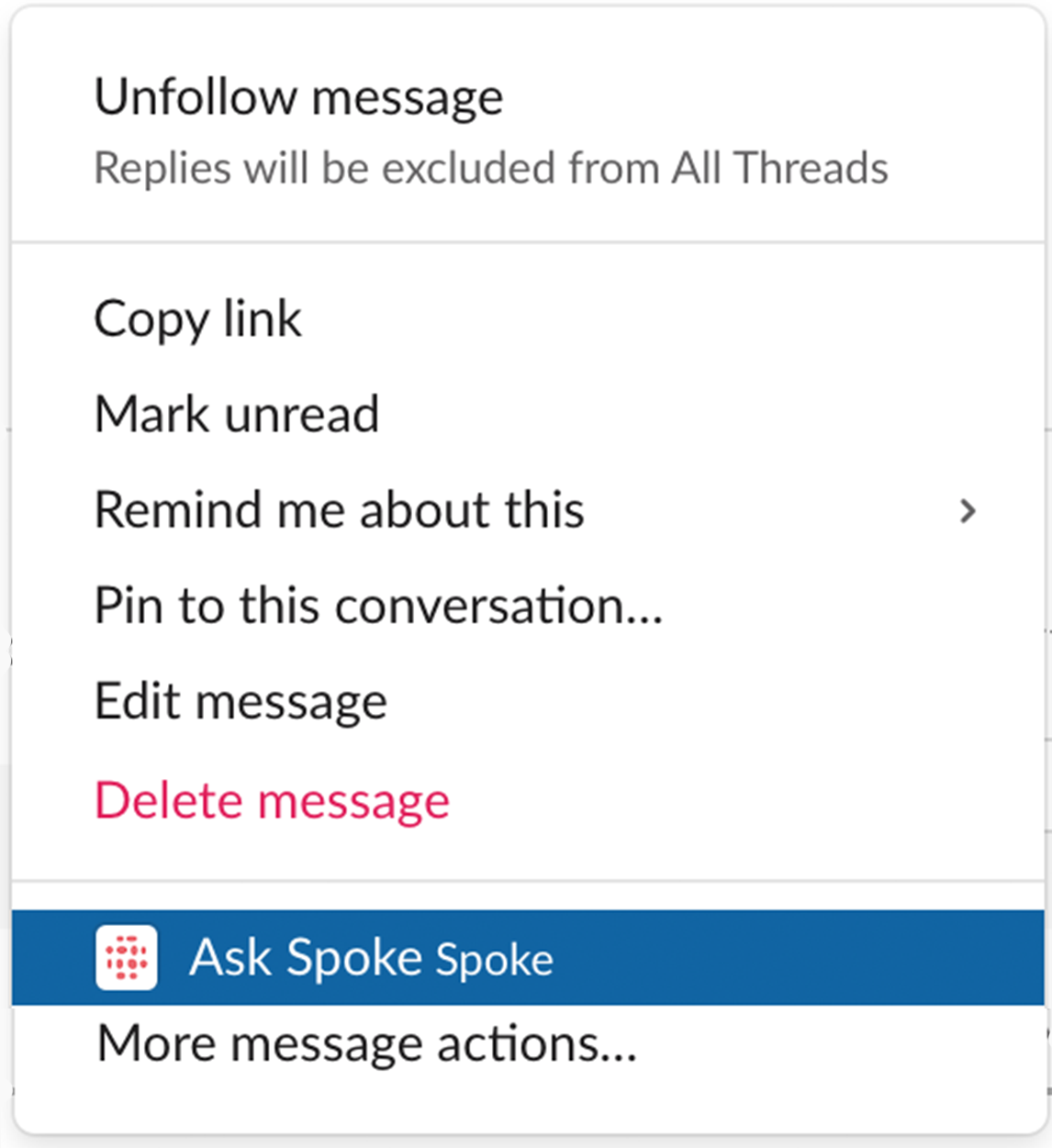 Once you select "Ask askSpoke" askSpoke will search the knowledge base to find a resource that may help.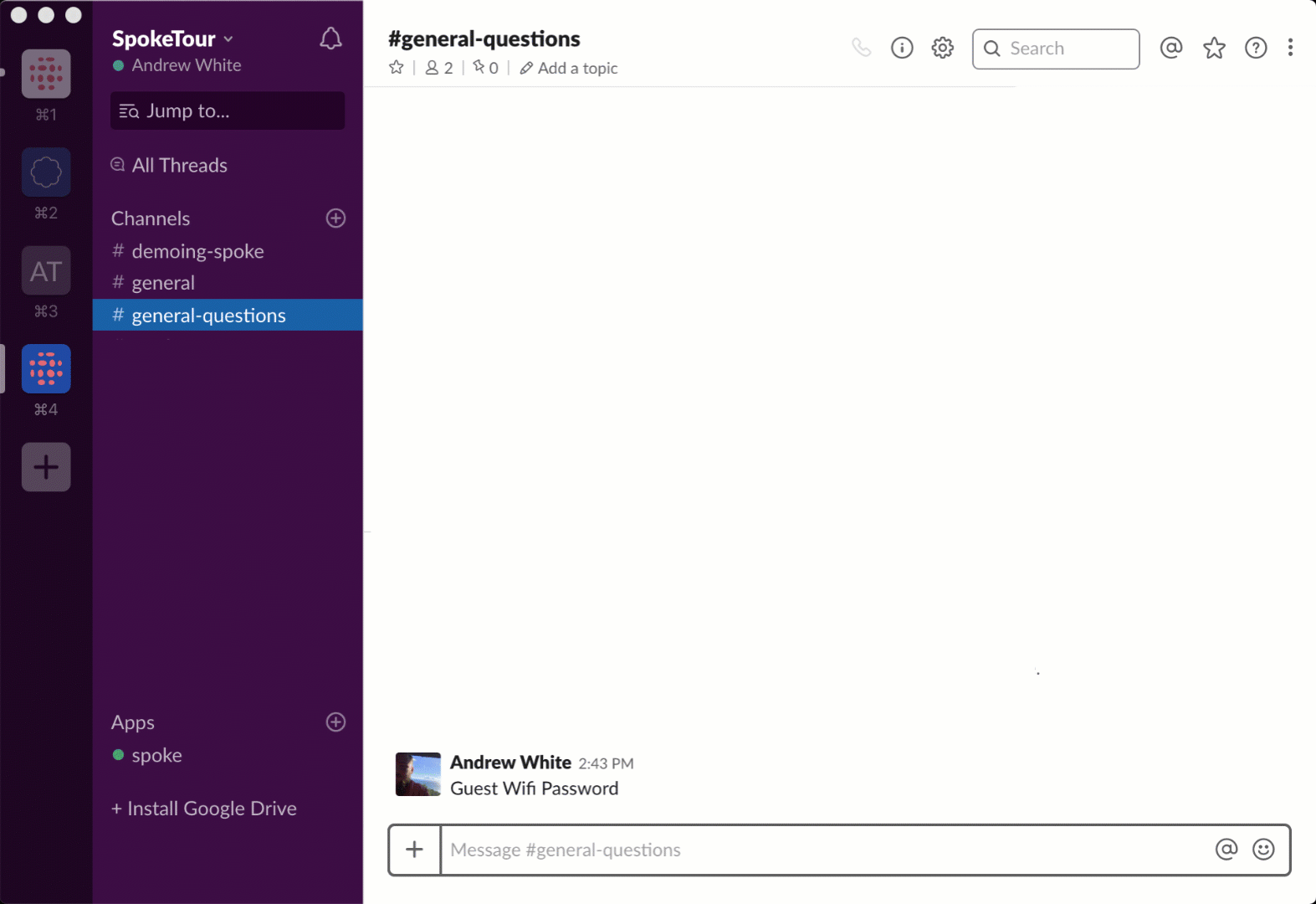 Use the Buttons to reply:
Choosing "This helps" will post the Knowledge resource in the channel
Choosing "This doesn't help" will show a request preview which allows the request details to be edited before being filed.
If Auto-assign is turned on, askSpoke will notify the agent assigned via DM. Learn more about auto-assign here.

What if I create a request for someone who doesn't have an askSpoke account?
askSpoke will prompt you to invite the user, so the request can be filed.  

Slash commands
Search the Knowledge Base
/askSpoke
To search the knowledge base before filing a request, type "/askSpoke" then the title of your request.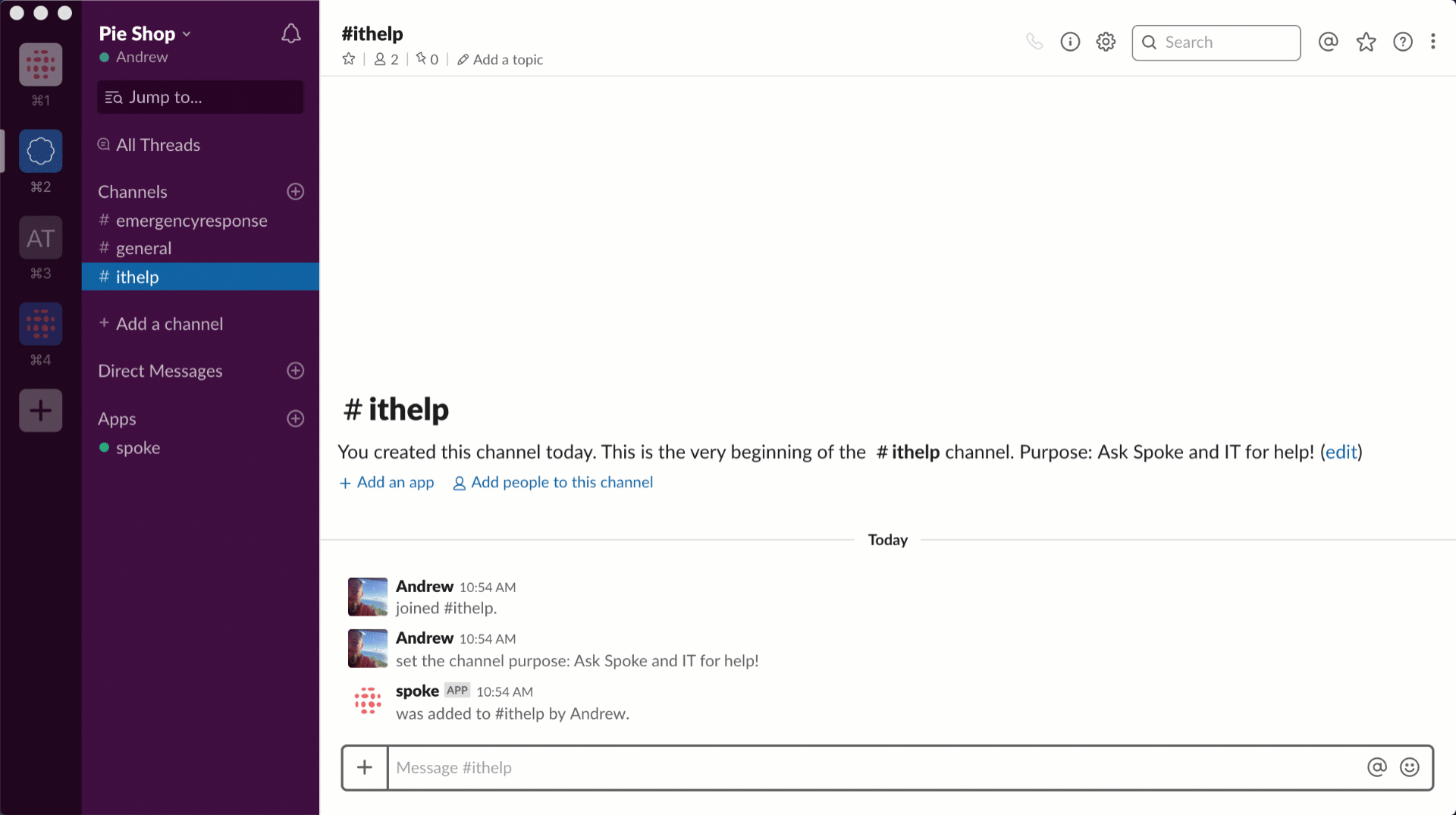 If a relevant knowledge base resource exists, askSpoke will present it privately for review. Once "This helps" is selected, the knowledge resource will be viewable in the channel by any channel members. If "This doesn't help" is selected, a request preview will be shown, and the user can change details before filing the request.

File a request directly
/askSpoke File
Maybe you're requesting services instead of knowledge, or maybe you need to file a request urgently. For these instances, use "/askSpoke file [Title of your request] to skip searching the knowledge base and file a request directly.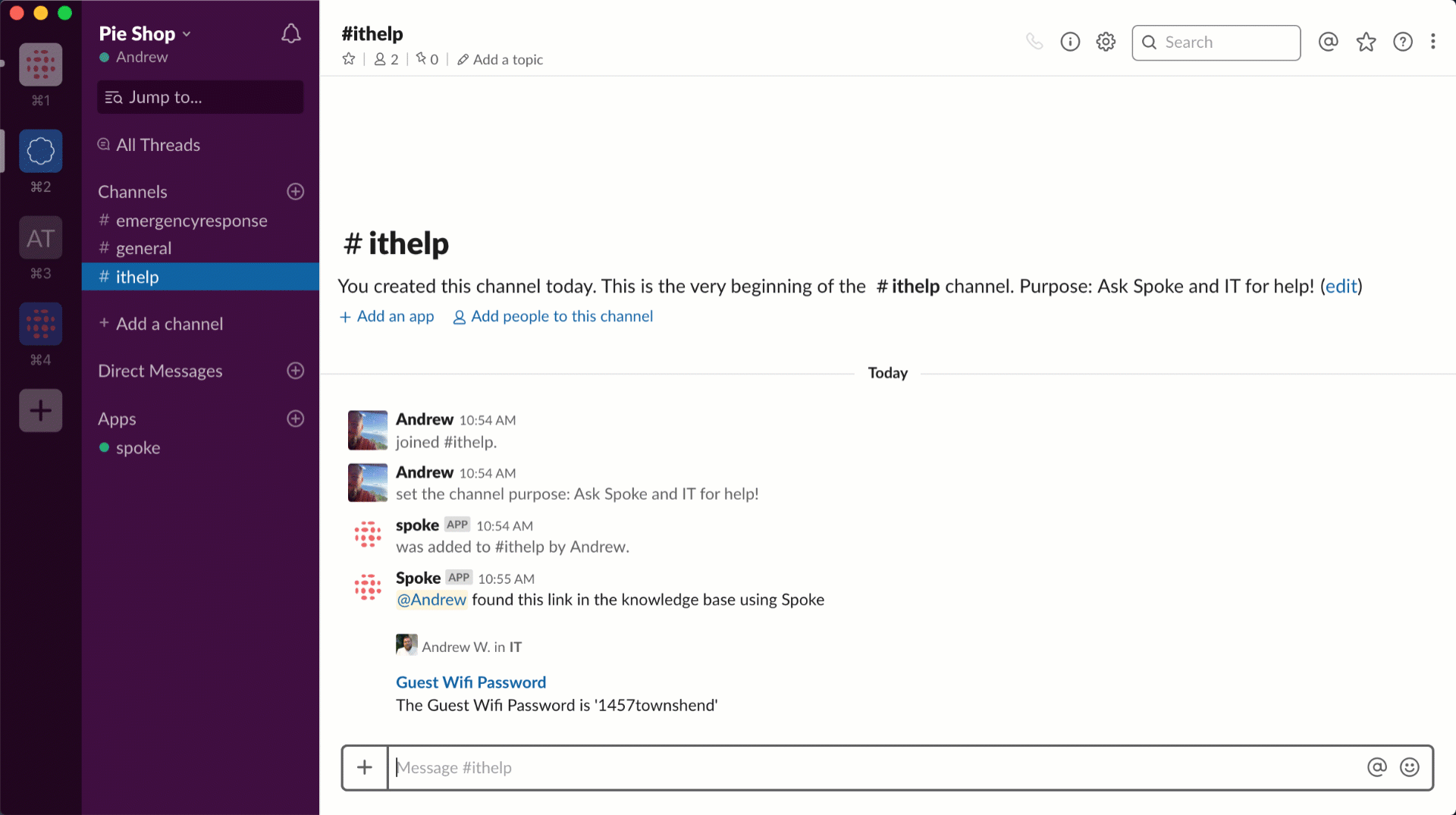 If the request has a form attached, and requires more questions to be answered, the user will be notified by askSpoke that these questions need to be completed to finish filing the request.
Request status in Slack
You can change status in Slack by selecting the dropdown you see in the thread. This dropdown is only visible by the person who is working the request.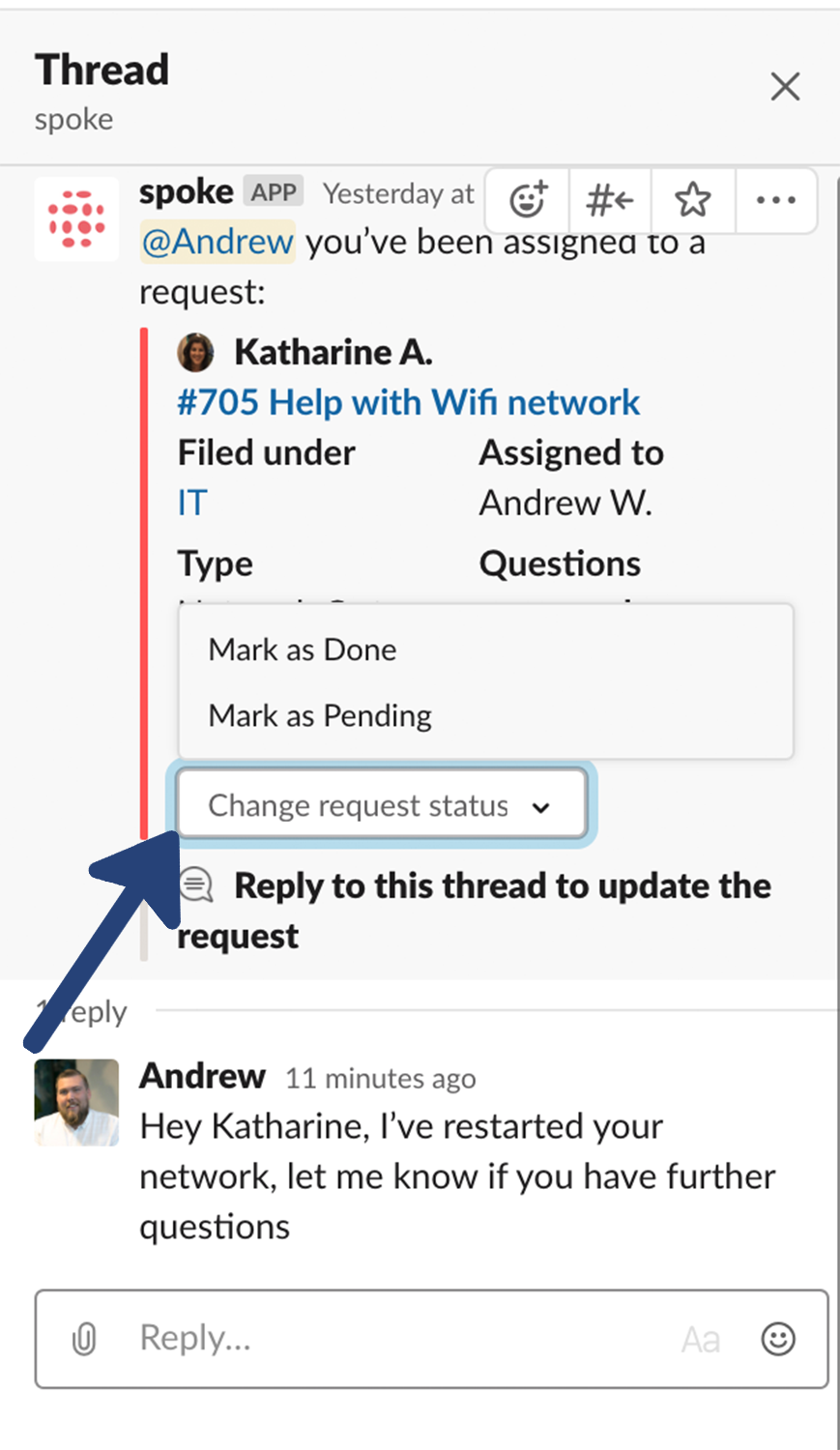 Choose a new status in Slack to close a request, or mark it as pending.
---
---