Slack: set up
Spoke works best where you work. Use this guide to connect Slack and begin Slacking questions to Spoke!

Set up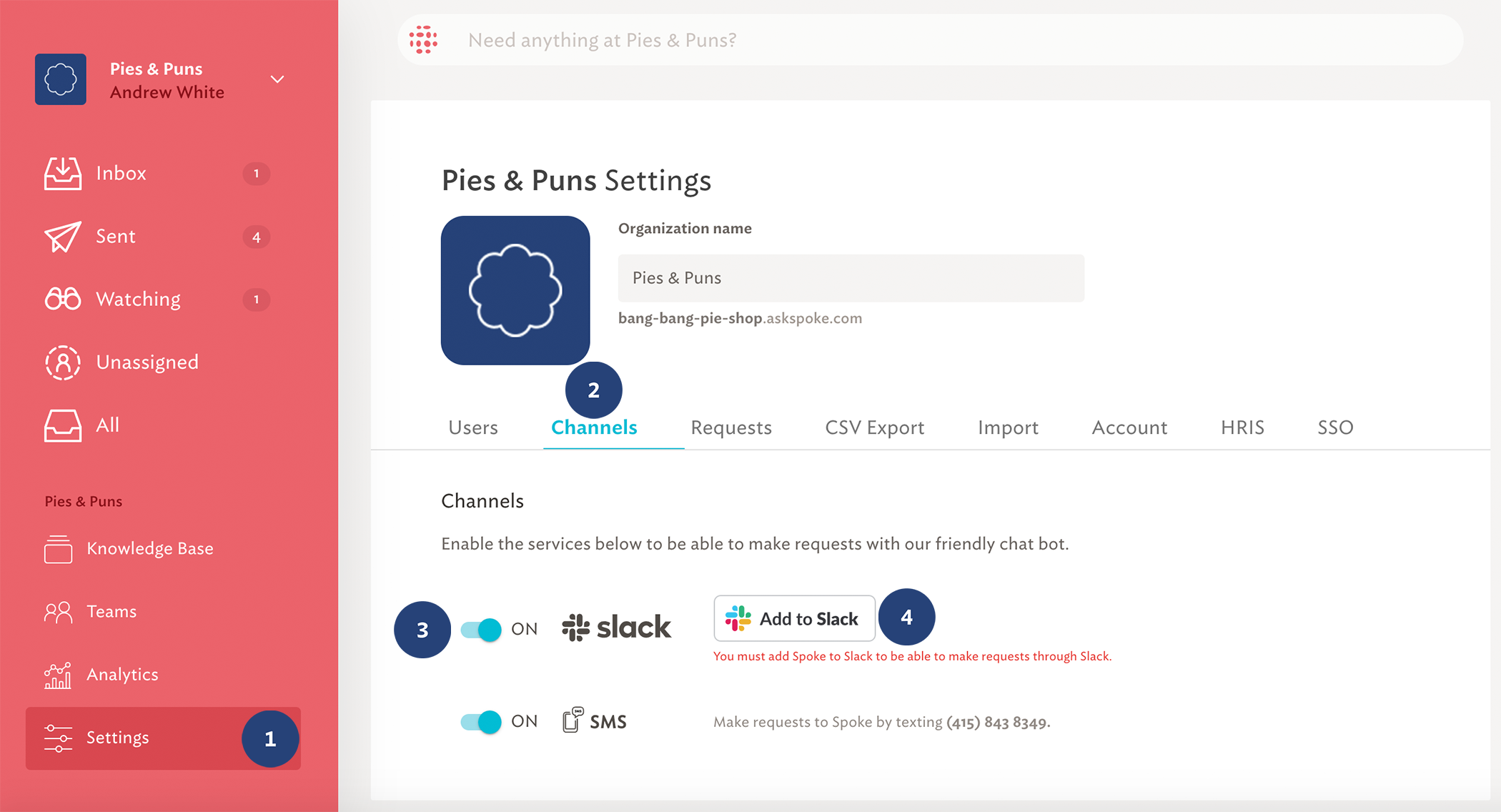 To turn on Slack for your team:
Go to Spoke Settings
Select 'Channels'
Turn Slack option to 'On'
Click the 'Add to Slack' button
Spoke will connect with Slack and you'll be asked to authorize it.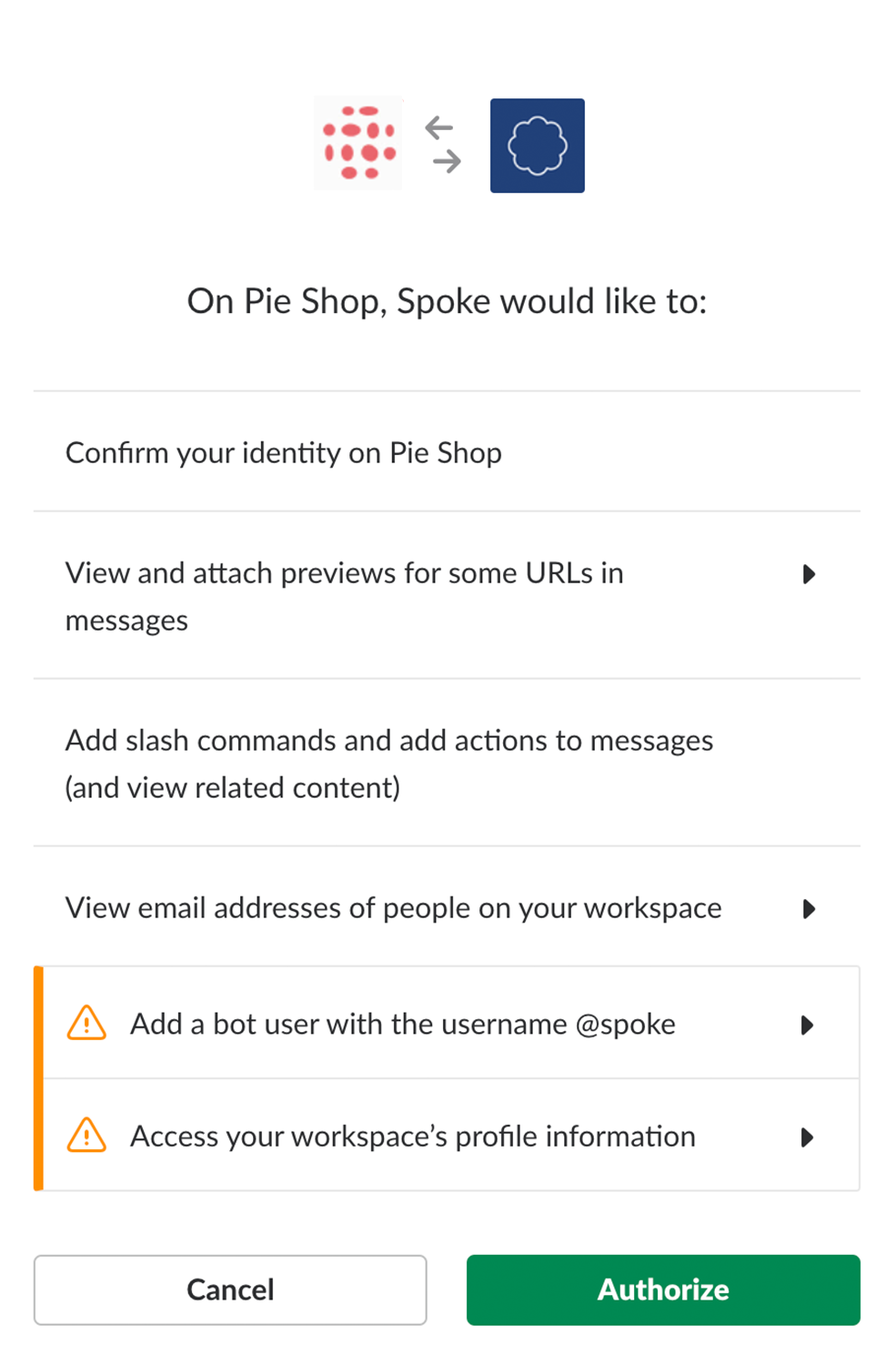 Testing Spoke
To create a new request in a channel, make sure that Spoke is invited to the channel you're using. You can Direct Message Spoke as well, if you'd like to keep your request private from the channel.
Some admins prefer to start a specific Spoke channel to make all their requests

Once Spoke is invited to a channel, all you need to do to start a request is tag Spoke as @Spoke, just like tagging a coworker.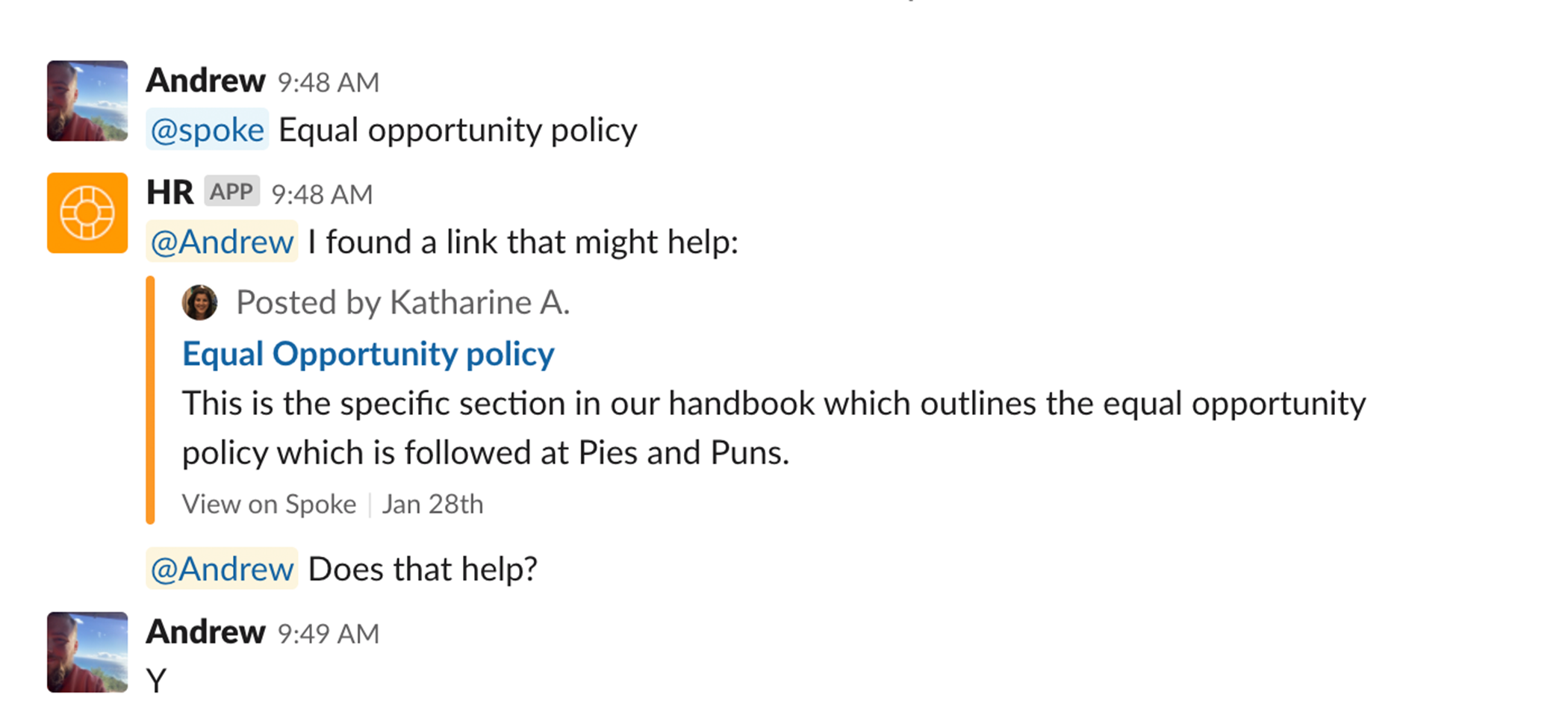 With all new requests, Spoke will first search the knowledge base to check if there are resources available which answer your question. If so, the KB will be offered as a potential answer, and you'll be asked if the answer was helpful. Make sure you tell Spoke Yes, or no! (Yaaas, Y, Yep, Thank you, :Thumbsup: all work as well)

Creating a request
If Spoke doesn't contain a knowledge base resource that answers your question, you will be asked if Spoke should find a human to help. Once you have selected Yes, file a new request. Spoke will start a Slack thread. This allows you to be notified for each update that is made to the request.
To view the request thread that was just created, navigate to "New Threads" or "Spoke" in Slack.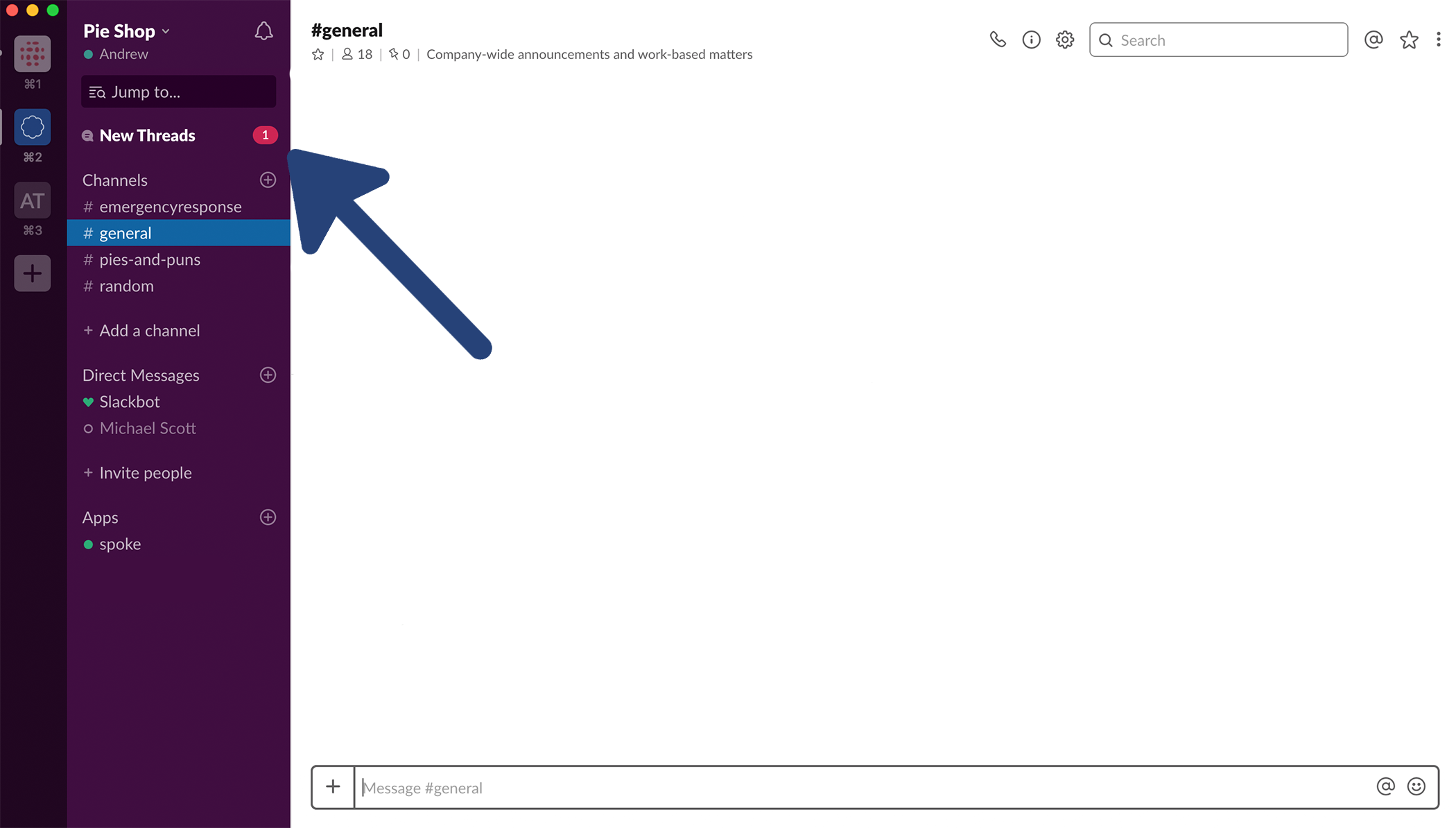 Add more information, or view updates on your request from thread. Because you were @mentioned in this thread, you are a follower, and will receive notifications for each update to this request.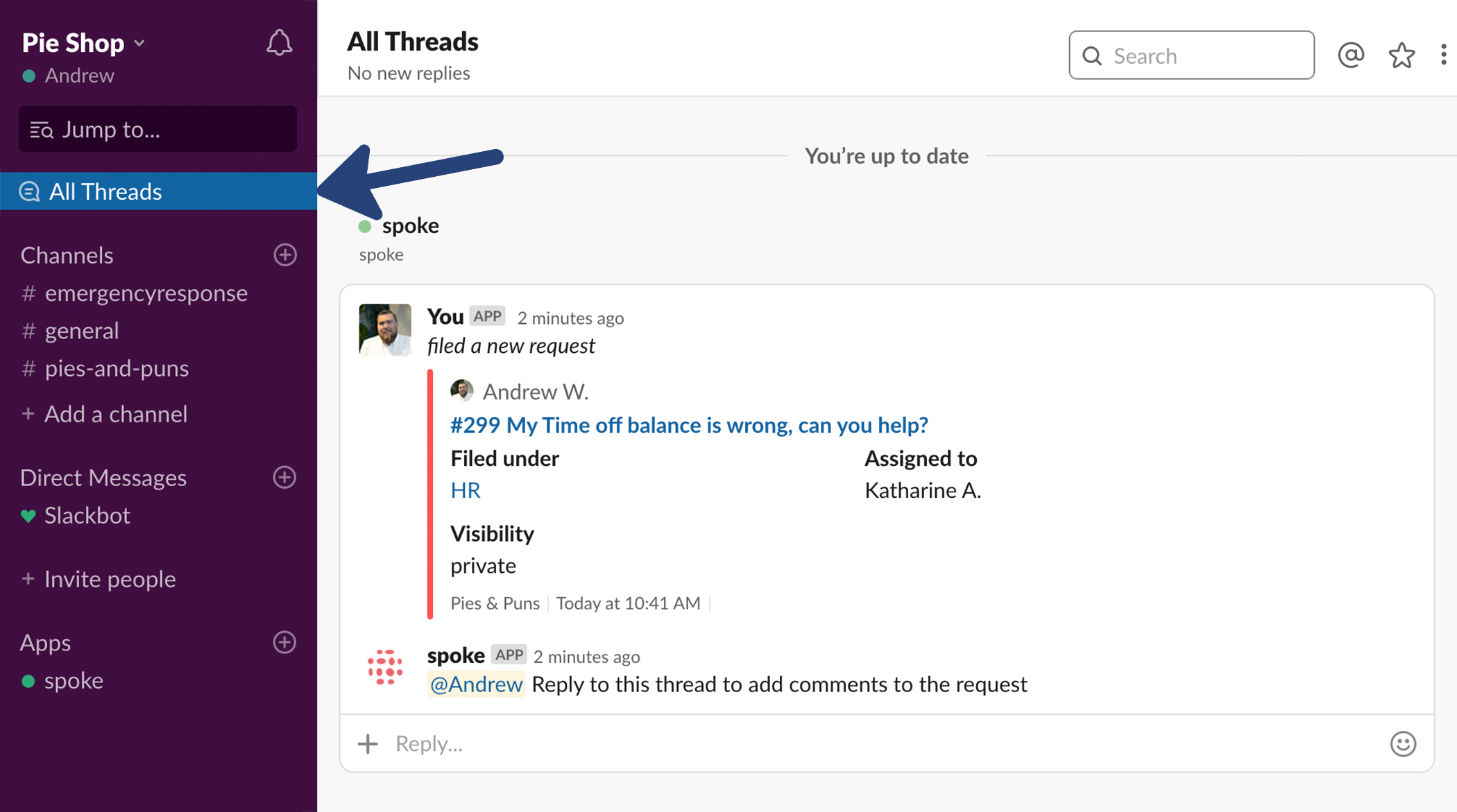 By replying to this thread, you can add information or view updates to your request.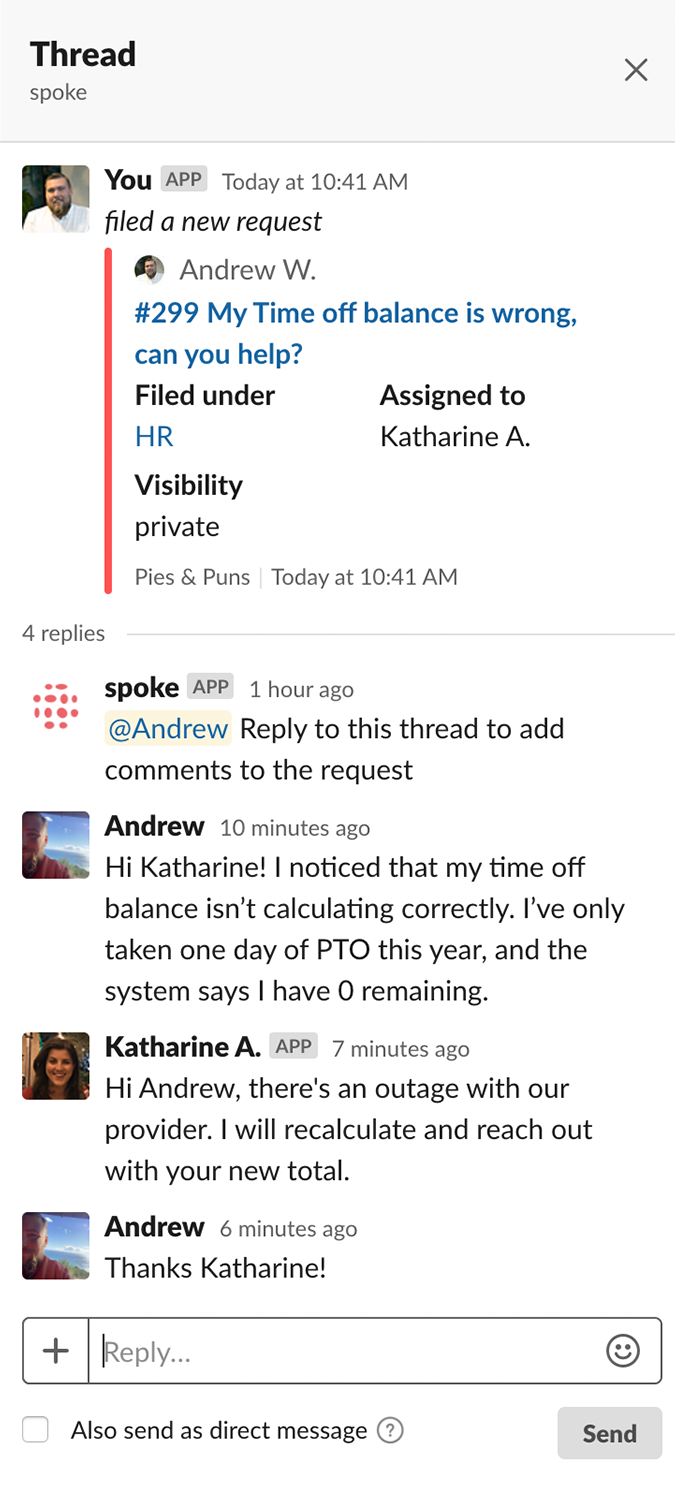 You can always click the link at the top of the thread to open the request in the web app. Notice that all updates appear in both Slack and the Spoke web app.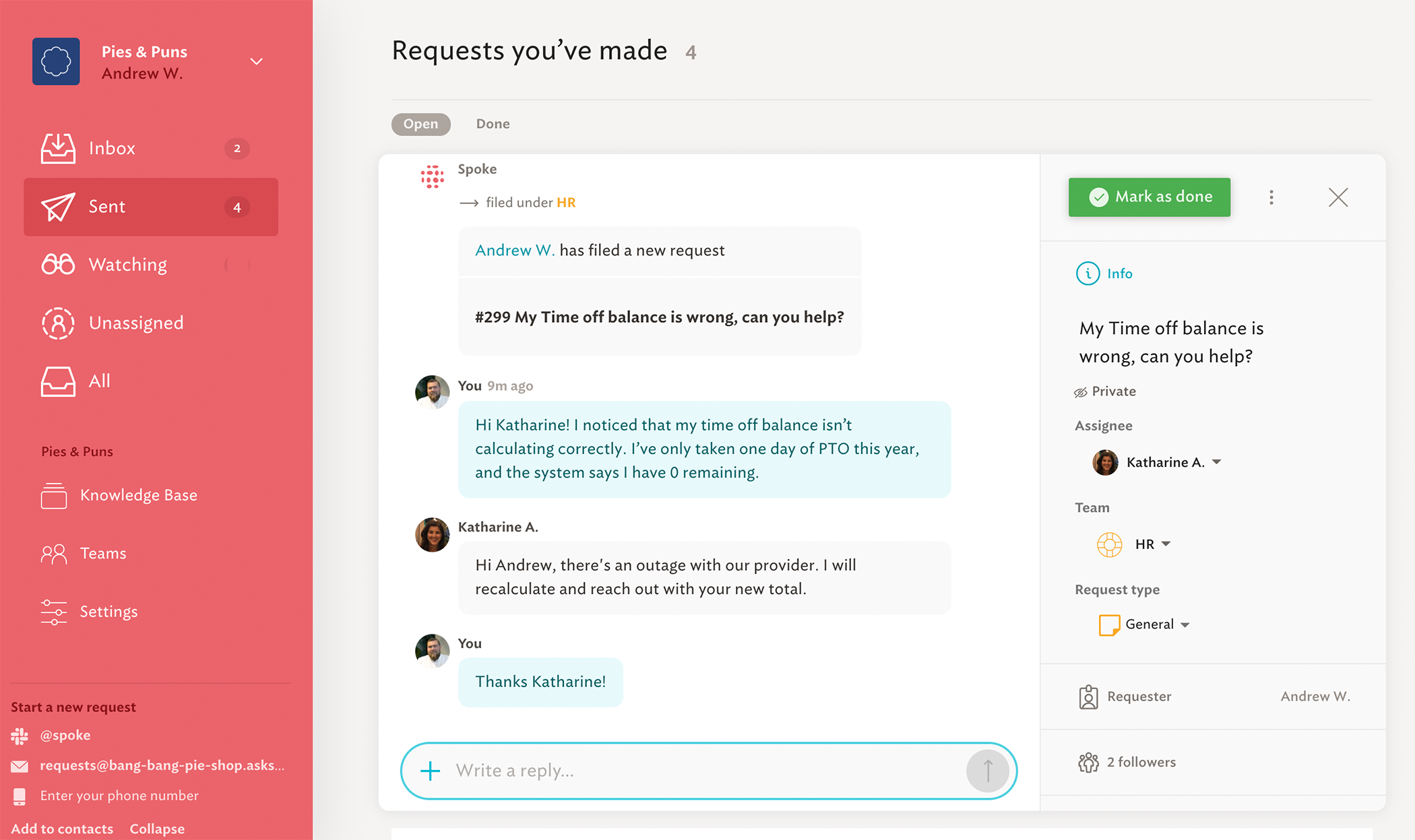 You can also @mention other users in Slack if you'd like to add them as followers to the request. They will be added to the request in Spoke as a follower.
Please note: You will need to navigate to the web app to change request title, requester, or mark a request as done.

Notifications
Slack's default notification settings notify you if:
You receive a Direct Message (DM)
Someone replies to a thread you're following
Someone @mentions you or notifies a channel that you're in.
Someone uses one of your Keywords
You receive a reminder from Slackbot that only you can see.
If you have customized your notification settings, please update them to include notifications for Slack threads.
Update notification settings
Begin by navigating to the downward arrow at the top left of your Slack instance. From the dropdown, choose "Preferences"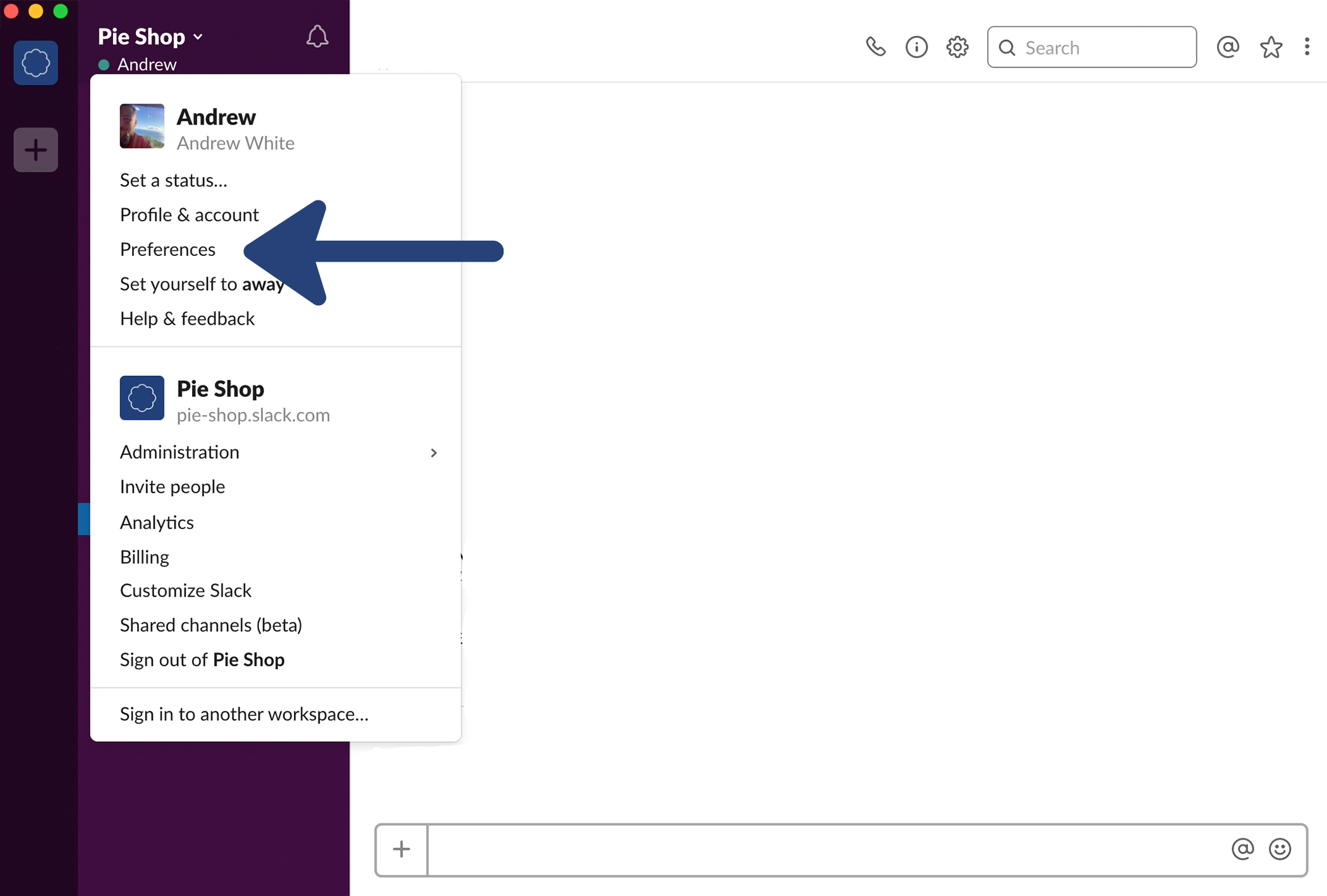 From the Preferences page, select the checkbox next to Notify me about replies to threads I'm following. This allows Spoke to notify you about any updates to your request.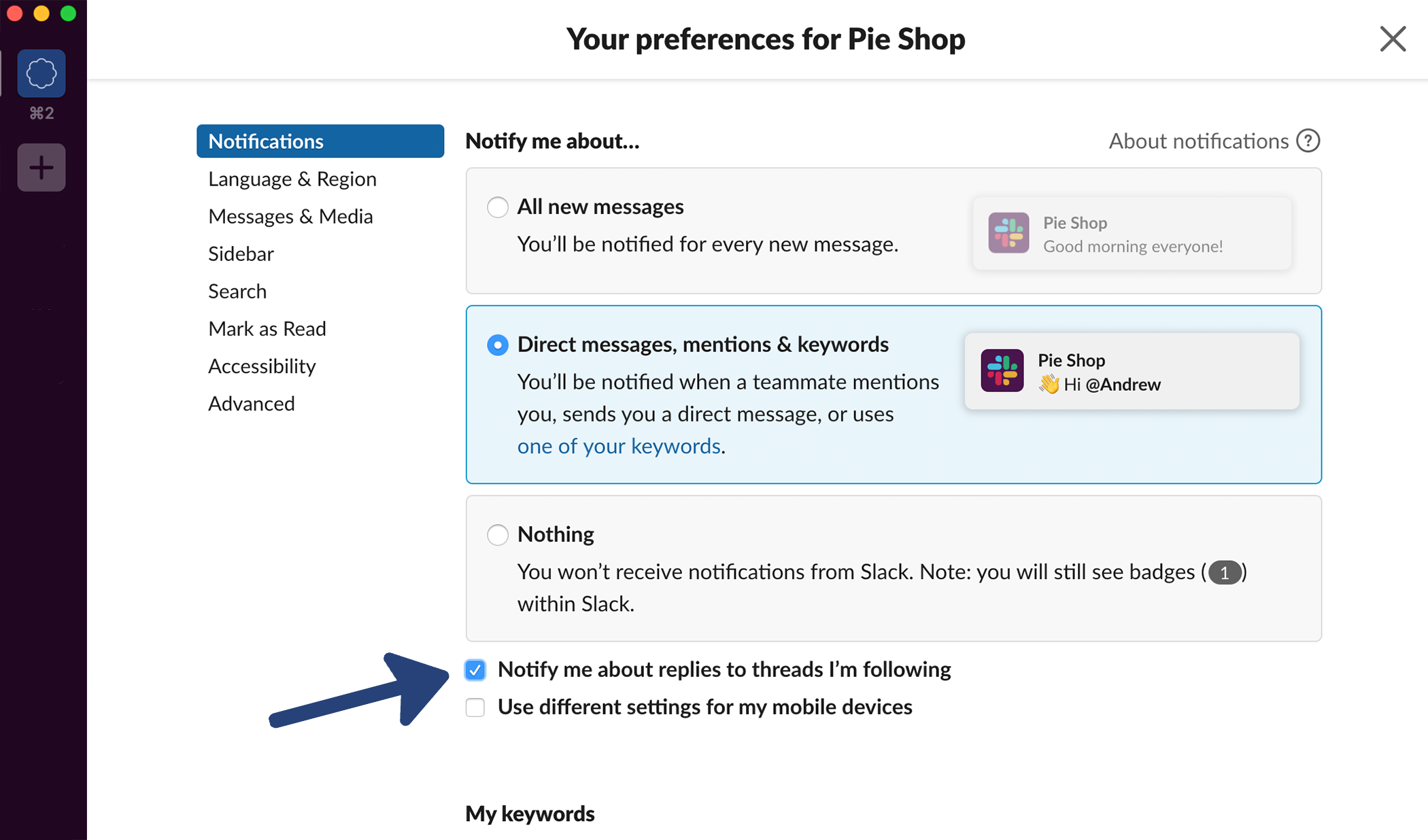 Using App Actions
In any channel where @Spoke has been invited, select the three dots to the right of the message, and look for  'create a request'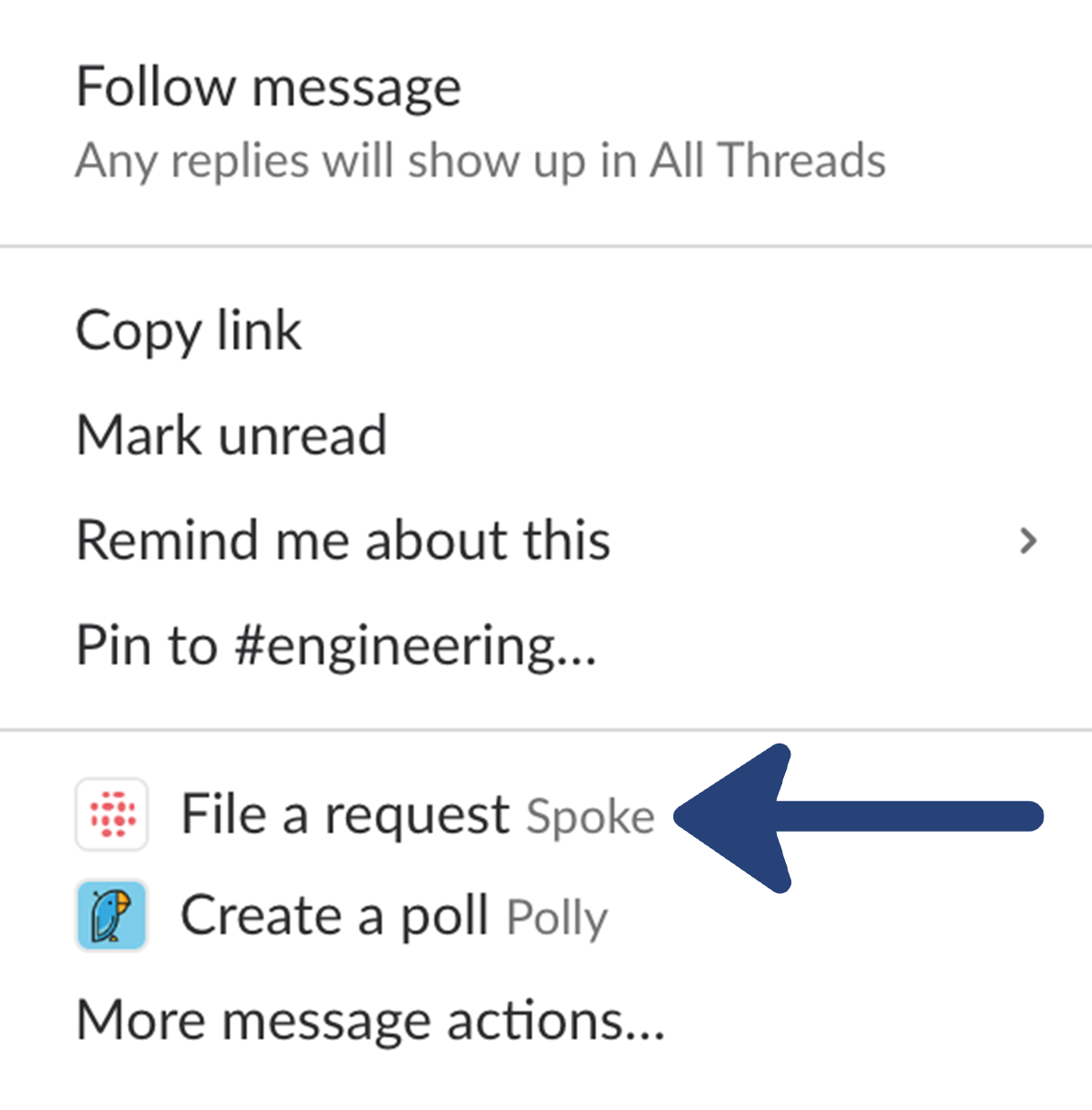 If you convert a colleague's slack message, you will both be included on the request. Spoke will first search the knowledge base for a relevant article and ask you (the clicker) to confirm the information is correct in a whisper message before sending it to the channel.
If Yes this helped is chosen, this response will be sent back to the channel or DM where the original message was sent.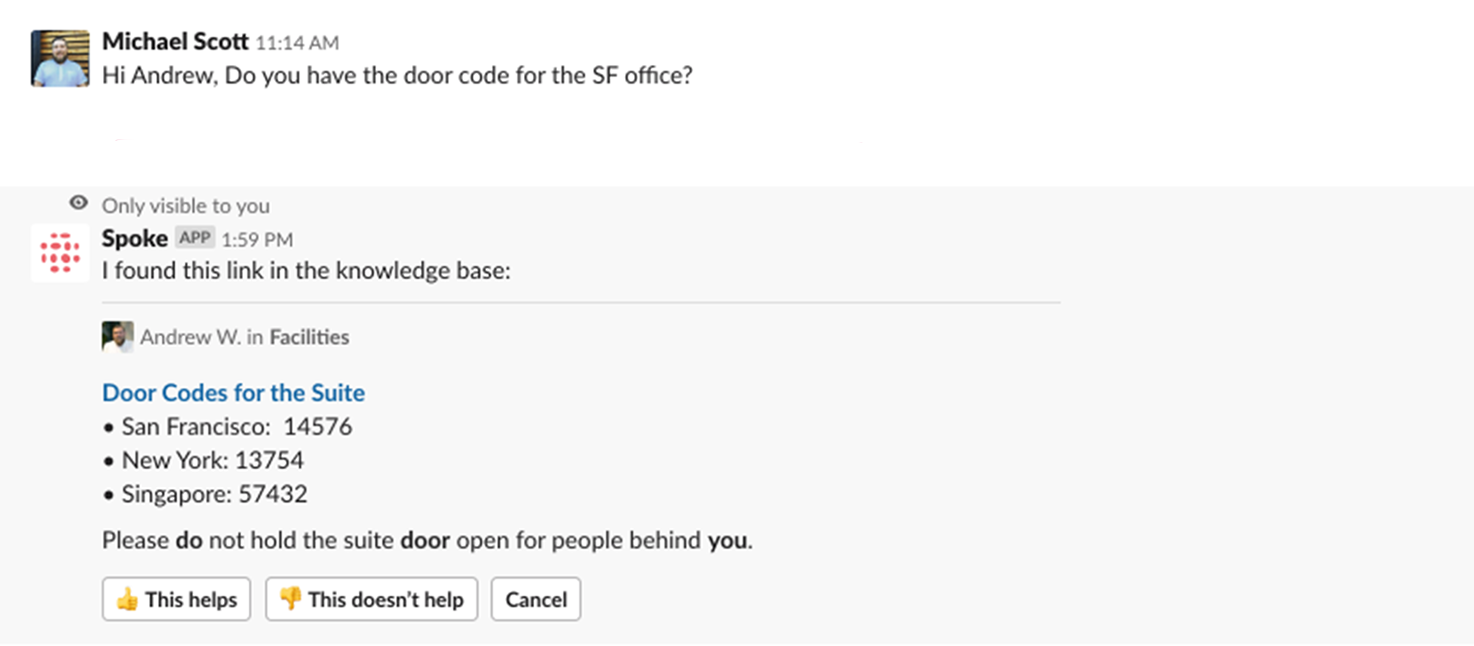 If This doesn't help is chosen - Spoke will show a request preview and give you the option to edit the request before filing.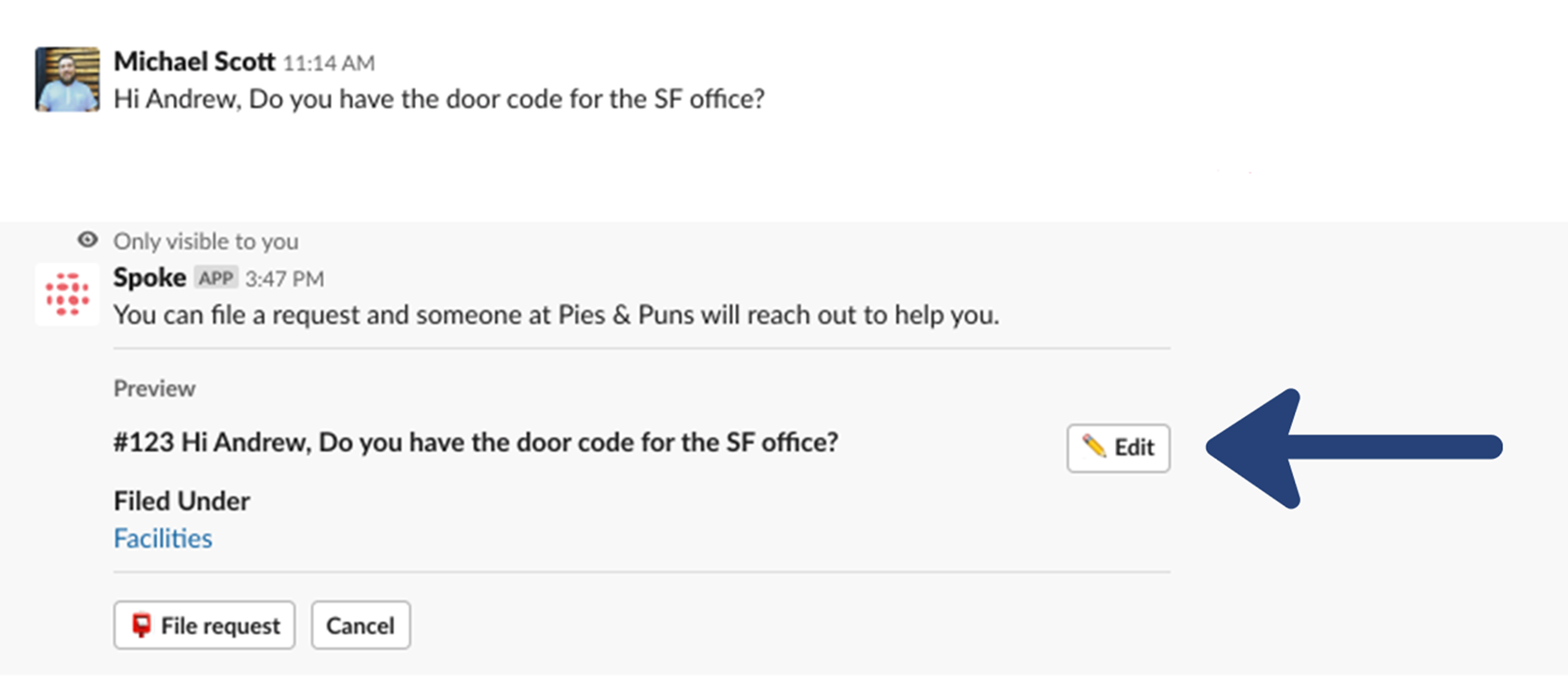 Use the buttons to file the request or cancel it from here if you change your mind.
If auto assign is turned on, Spoke will notify the agent assigned via DM. Learn more about Auto-assign here.

For more information on Spoke with Slack, check out our article on creating a request in Slack.
---
---