Product updates: Fall 2018

New improvements in Spoke's Slack integration:
Now, you can share resources in your Spoke knowledge base by pasting the KB link into Slack. We'll automatically show a rich preview!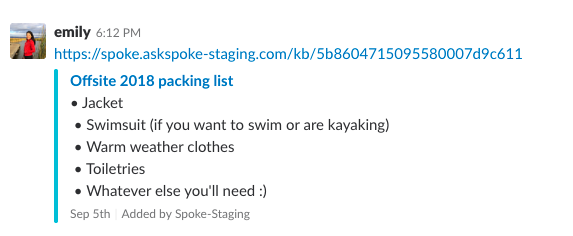 Note: if you connected Spoke to Slack prior to Sep 13, you'll want to update your integration by heading to Settings, from your Spoke web app.
Coming soon
📄Forms - ask for additional information and see it directly in the request
Multiple ways to filter lists of requests by requester, assignee, request type, status and team!
Bulk delete requests in app
Launched Fall 2018
Rich KB previews in Slack when you share a KB link
Accept new users directly in email and Slack
Expanded assignment options - set Out of Office and take someone out of rotation, or assign all requests to one person
Launched Summer 2018
Slack app actions - turn any Slack message into a Spoke request with one click.
Live updates in Slack - when requests are cancelled, completed or assignment is changed, we'll live update the request summary shown in Slack
Slack request previews - set your request visibility, or assign to an individual before submitting the request

Launched Spring 2018
​
---
---